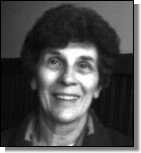 Joann Blair
Ashland, Oregon

Today is mother's day and I am the mother of David Blair who is the fearless leader of our merry band of cyclers. David is the youngest of three boys. The other two are Scott and Todd. He also has a younger sister, Nancy.


I currently live in Ashland, Oregon, and I find it interesting that I was born in Ashland County, Ohio, (64 years ago in my great-grandmother's house) and, in fact, Ashland, Oregon, was named by a pioneer from Ashland, Ohio. So I feel as though I have come full circle.


I'm a graduate of The University of Akron and, also, Kent State University. My background is in journalism and librarianship---not a career, just a series of jobs fitted in between family activities.


I spent most of my life as a Buckeye in Ohio before moving west eight years ago, first to Montana and then Oregon. I love the Pacific Northwest and feel very lucky to have come out to this beautiful country. It has everything--mountains, rain forest, desert, ocean, lakes and rivers. I hope to spend many more happy years in the PN but, at the moment, I am thrilled to be part of this trip, rolling slowly through the gorgeous scenery of western Washington. Wish you could be here to enjoy it, too.