Day 1 (Saturday, July 8)
---
Written By: Adam
In a word, "Hazy". Paul, Dad, and I woke up at the butt crack of dawn. It was 4 am and we were doing our best to fit two 5' x 9' bike boxes into a mid-sized airport van. We packed 'em in the best we could and squeezed into the van for the trip to the airport. The airport was surprisingly busy for 5 am. I hopped on the plane and soon fell asleep.
I didn't regain full consciousness until we arrived in Portland, OR at 11am (west coast time). We picked up our luggage and met up with Wayne and headed off to Roadhouse, where we ate like kings! I made sure to order the biggest steak on the menu.
After that we drove north west for 130 miles to our camp site. Our site backs to the Pacific ocean. It's awesome! After putting up the tent we visited the town of Long Beach, Washington. We ended up at the local ice cream joint. Four double scoops later, we were stuffed to the gills. We also walked down to the beach for a while, where Wayne got "chilly" for the first time since his move to Florida. Now we are heading back to camp.
Tomorrow, Dad and I start biking...
Pictures!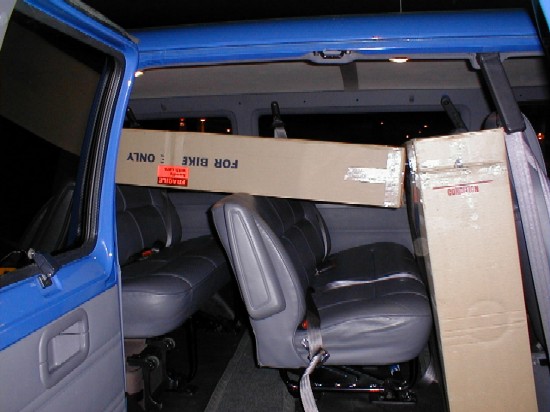 Adam and I slept under those boxes!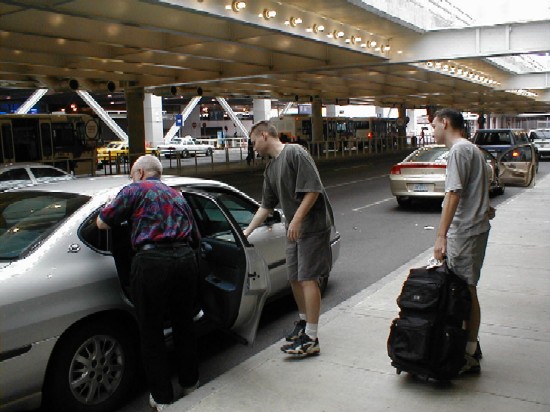 Leaving the airport after meeting up with Wayne



Wayne being silly in the car



The beach 200 feet from our tent



Dad, Adam, and Wayne playing on wood on beach



Adam, Wayne, and Paul on wood