Day 3 (Monday, July 10)
---
Written By: Adam
We started our adventure on day 3 around 9 am. Dad and I agreed to carry the camera for the first half of the day, so the first few photos are from our trip. Dad and I munched down on the "power bars" that Alexa made for us about 10 miles into our trip. "Yummy"- thanks Alexa! We spent the next 2 hours biking up, up, and up...then down, down, down. We climbed 2 major hills/mountains before stopping at Wee Willie's (an awesome esspresso shop in the middle of no where). We sat and sipped java and chewed the fat with the owner for about an hour. Ahhhh.....(nice break)
Back on two wheels... We continued riding the coast line along high ocean cliffs and beach fronts until we stopped for lunch at the Pelican pub. I wasn't planning on having beer, but Dad convinced me because he said the rest of the day would be fairly easy. We also decided to shorten the day by 15 miles, so that we could hike out to cool suspension bridge that dad knew about. The rest of the day was pretty easy, dad was right this time. Wayne and Paul picked us up after we biked a total of 60 miles for the day. We all hoped in the car and headed off to the trial head (with a quick side trip to another espresso joint).
The trial was tough on the legs. I couldn't believe I was hiking after spending the last 2 days biking. But there I was, hiking away. It was well worth it too, the suspension bridge was awesome. We couldn't figure out how they got the material to build it up there. After visiting the bridge for a while, we turned back and got into the car and took off to the hotel. Ahh... the sweet hotel- man I haven't stayed in a hotel this nice since... well, never. The hotel kicked butt.
Well that's it for now. More pictures and stories on the way!
Pictures!

Adam and Dad's stop at Wee Willie's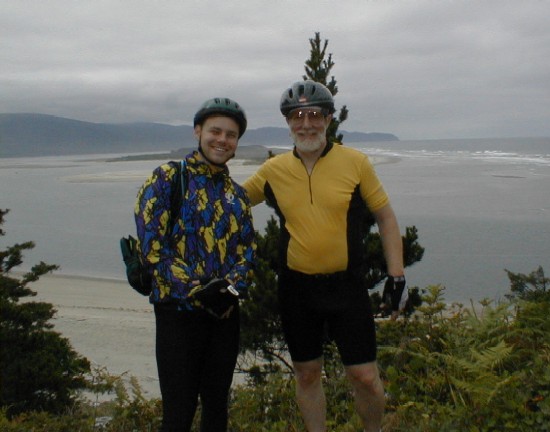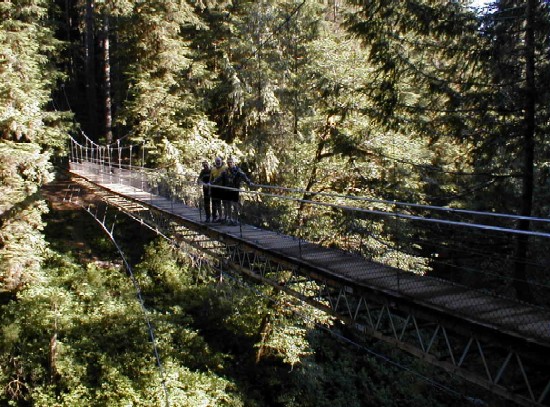 The awsome bridge in the woods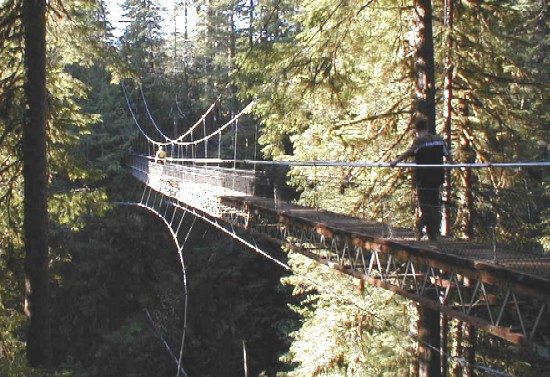 Paul being silly on bridge

The falls right next to the bridge

Our view from our hotel room patio