Day 4 (Tuesday, July 11)
---
Written By: Wayne
We decided to take it a little slower this morning and hang out at the resort a little instead of taking off right away. We started the day with a nice breakfast at the lodge. As guests of the hotel, we were allowed access to the private land across from the resort. After breakfast we decided to check it out. The land curves out from the mainland creating a little inlet of water to the right. Apparently this makes a great hangout for sea lions! At the end of the land was about 150 or so sea lions lying around. As soon as they spotted us they all stared at us the entire time we were there. We didn't want to get to close to them... for two reasons: we didn't want to scare them off.. and we didn't want permenant nose damage from thier awful smell! Man those guys smell! But the smell was worth it, these guys were truly magnificant creatures to watch.

Back to the lodge. Satisfying our endless need to hit small white balls around, we opted for a nice round of minigolf (already payed for in our room fee). Unfortunetly we ran out of time so we ended early. Dad ended up on top looking like a real pro out there, and I lost badly... really badly. I guess golf isn't my game.

After golf, Adam and Dad took off on their bikes and Paul and I hit the road in our not-so-cool rental car. We met up a little while later at a small Mexican restaurant in Newport. Paul and I enjoyed a Margarita while Adam and Dad opted for water... and more water. It was good food and a nice break.

Adam began feeling a little light headed and wondered whether he would be able to make the remaining 50 mile trek. But after a cup of joe a little ways down the road, he was back in shape and ready for action. Adam and Dad enjoyed a massive tailwind the entire day which pushed them along and made the trip much easier. They got up to 40+mph on some of the downhills!

Meanwhile, back in the car, Paul and I were having adventures of our own. We first stopped at the 'Ripley's Believe it or Not' museum. We knew it was a tourist trap but thought it might be a laugh so we gave in and payed the $6.50 to get in. This time our intuitions were right, this place was a tourist trap, and a bad one at that. There were a few things that were sort of interesting, but mostly it was real cheap, real hokey exhibits and movies. Pretty short too.

Later we stopped at the Sea Lion Cave. This place was pretty cool. You still had to pay a pretty penny to get in, but it was cool enough to warrant the expense. Below the cliff at the enterence was a rock face with about 50 sea lions all hanging out basking in the sunlight. They were about 200 feet below the lookout. Pretty lousy view from all the way up here, but they had an elevator that went down into the mountain and opened up to the ocean cave below. Here we saw the lions up close and personal. They greeted us as we watched them, barking loudly and echoing thier sounds throughout the cave.

Paul and I arrived at the campground at around 6:30pm. Adam and Dad showed up a half an hour later. We set up the tent and headed out for a late supper. We ended up going to a seafood restaurant that Dad knew about. Boy was the food good. A little pricy, but well worth it. Paul got some dungeoness crab, and Dad, Adam and I got some seafood caseroles all of a different variety. My mouth waters even thinking about it...

By the time we got back, we were all beat.

Bed time for bonzos.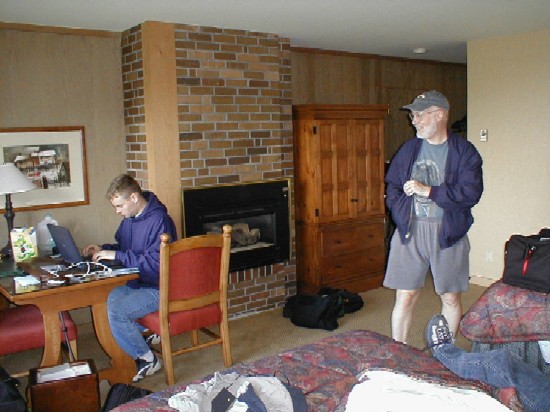 Our cool hotel room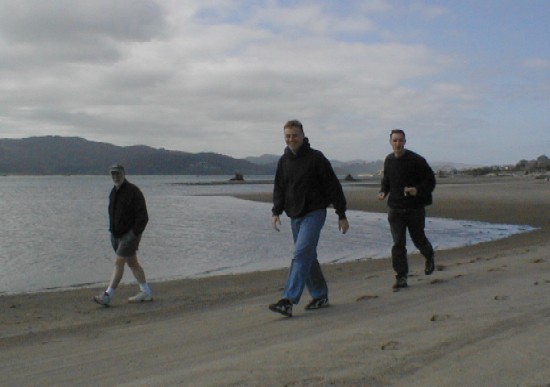 walking on the beach to the sea lions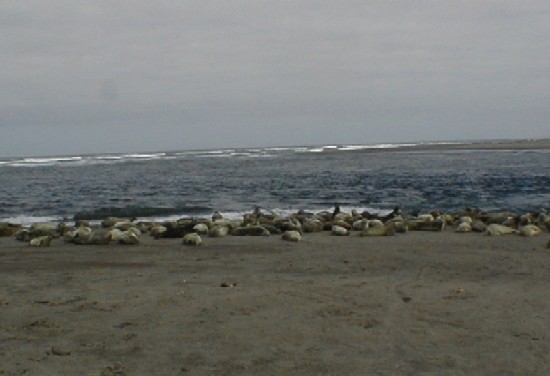 the sea lions!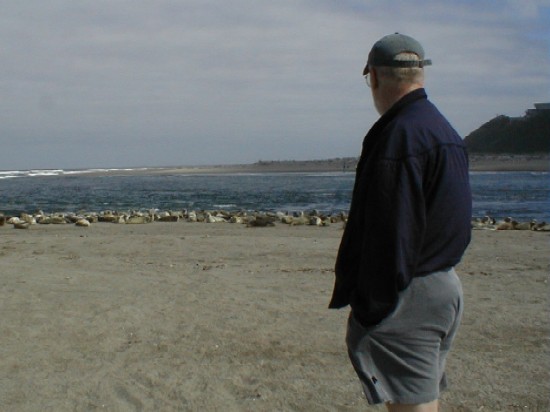 Dad with the sea lions

A stop along the way. Great view!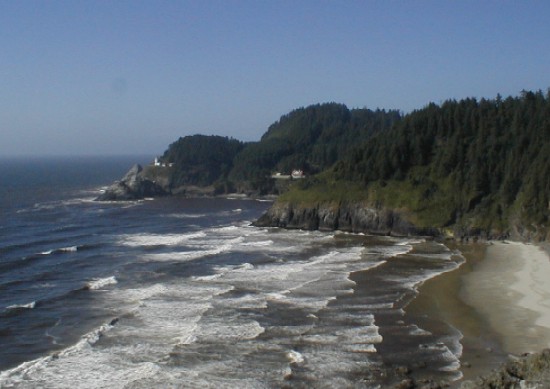 another great view

A neat light house we stopped at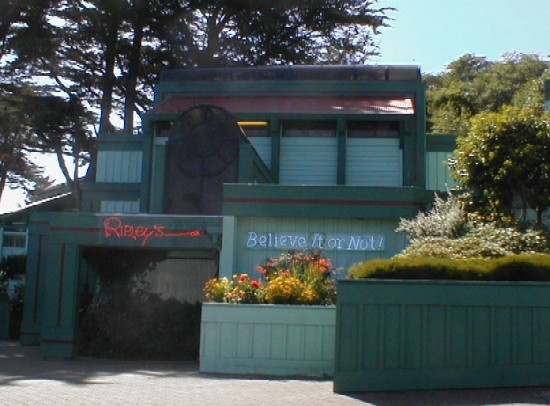 Ripley's Believe It or Not (a.k.a Ripley's Ripoff)

In the sea lion caves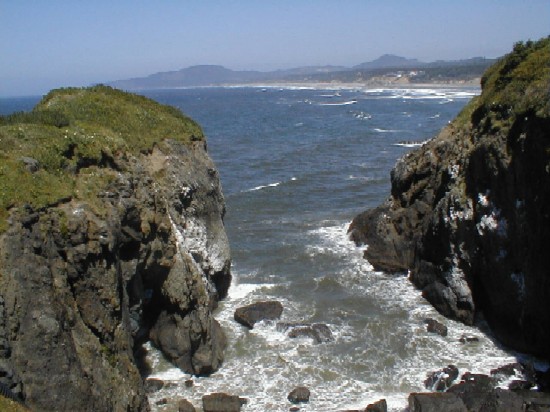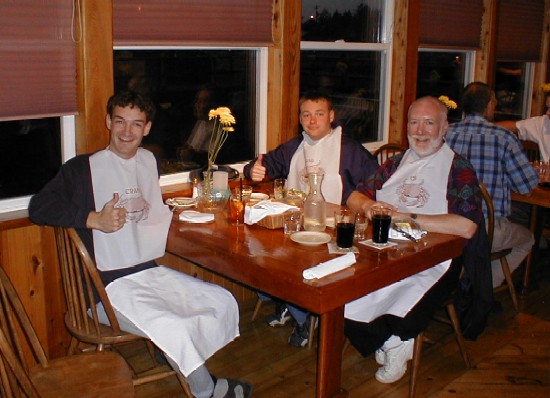 Our awsome Seafood dinner that night