Day 5 (Wednesday, July 12)
---
Written By: Paul
So it's day 5, and day 4 has not been posted on the net. We spent last night at a camping place with no phone connection so even though we had finished the pictures and description on my laptop, no one could see it!

Wayne and I headed out this morning with two objectives: one was to find a place to upload day 4 onto the web site, the other was to do some serious sand dune off road'n! We looked in a brochure last night and read about a place down the road that rented 4 wheel, motor cycle-type vehicles called quads. You could rent these vehicles for an hour and ride them around in the acres of sand danes around this area.

We left the camp site this morning around 10:30 and Adam and Dad took off by bike. They had great tale wind yesterday and were hoping that the same would be true today. Wayne and I drove down the road and found the Sand Dune place. The rentals were $40 for the hour, which actually wasn't that bad. Wayne and I happily handed over the cash and got all the gear on (see the pictures below). The instruction we recieved was very minimal. After reading a short list of do's and dont's, the verbal instruction went something like this: "This is how you turn it on, this is the gas, and this is the break. Ok, let's go!"

We followed our guide down a steep hill and down a neat path through the woods. I used this time to get a feel for the quad, which had some serious kick! All of a sudden, the path opened up to a huge open area with sand dunes as far as the eye could see! Following the trend to tell us as little as possible, our guide quickly told us a rough description of the boundaries and let us loose.

I've never felt such freedom. We could go anywhere we wanted, and at any speed we wanted. Wayne and I just started hauling it out to the far reaches of the dunes. Then a funny thing happened. We had not been out there for more than 5 minutes before Wayne decided it would be a good idea to break rule number one on the list of dont's: Don't jump your vehicle. Wayne turned to me and said, "Hey, check me out!" He proceeded to gun it towords a little jump in the sand. To his credit, he was not expecting to the the air that he ended up getting, which was quit a lot. It was funny to watch the expression on his face change from a smile to more of a, "What am I doing!" type expression. The not so funny thing was that he got a flat tire as a result. He had to ride back with the guide and get another vehicle. He ended up only having to pay $10 for the flat, so all in all, it wasn't that big a deal.

Anyway, we had an exciting hour of off-roading action. It was an experience I won't be forgeting anytime soon. I wish Dad and Adam could have been there with us.

After the sand dunes,we met up with Adam and Dad for lunch. We told them all about our expereince and they told us how they were indeed getting the same tail-wind to help them along. They both said they were feeling pretty strong in thier riding. Lunch was ok, and after we ate we asked the people there if we could use thier phone line to upload day 4. They were nice about it but told us that they needed to keep the lines open.

So after lunch Wayne and I went all over the place trying to get connected to the internet, but to no avail. We finally gave up and drove to the camp site to get set up for the night's stay. Adam and Dad strolled in just a short time later. Another late dinner tonight, pretty good food.

Before we went to sleep Dad took us to a light house very close to our site. We walked out on a jetty that went out pretty far. The waves were crashing along the sides with great force all around us. It was kinda scary, but also very cool.

So now its bedtime. I will sleep well tonight. What adventures will tomorrow hold?
Pictures!

Breakfast, make-shift coffee maker, and Adam's devil horns

Paul on his Quad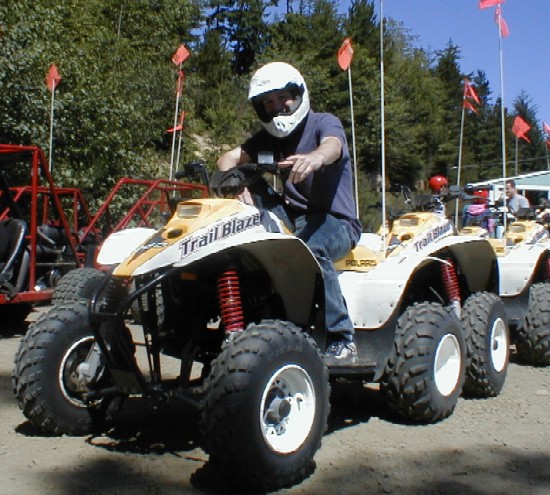 Wayne on his Quad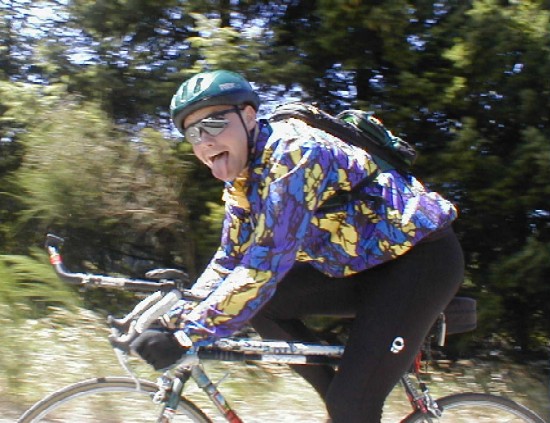 In-action shot of Adam biking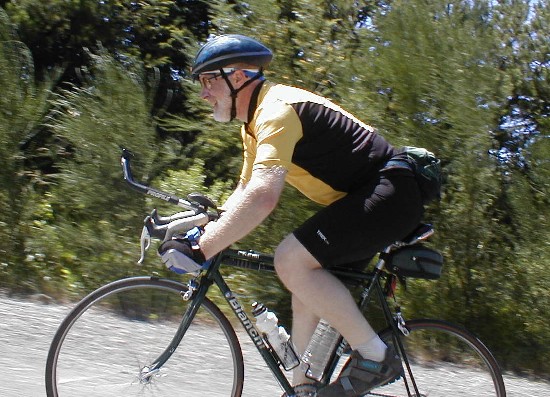 In-action shot of Dad biking