Day 6 (Thursday, July 13)
---
Written By: Paul
Today has been a pretty relaxed day for Wayne and I, and quite a struggle for Dad and Adam. They ended up going 93 miles! Not only was it alot of miles, but it was alot of uphills as well. But both of them made it through the long haul and rode into the camp grounds tonight looking strong.

We made plans to meet for lunch today at a little place on the map that showed the presence of gas, food and lodging. Well, as Wayne and I saw this place we just laughed. The place was no bigger than a baseball diamond with a shack for lodging, a closed shed that I guess use to serve food (but was now full of junk), and a single, rusted over and broken gas pump. Realizing that this wouldn't do, Wayne and I drove a little further down the road into the town of Gold Beach and bought some drinks and deli sandwiches to bring back to the bikers. On our way back we ran into Adam and Dad sooner than expected. They were really hauling it and were ahead of schedule. We sat by the side of the road and had a make-shift picnic.

After lunch Wayne and I went back into Gold Beach for one last stab at trying to upload these pages. This time we were successful! We went to a little place called The Book Worm Store and they were happy to help us.

Before we went into the camping grounds for the night, Wayne and I stopped along the road and walked onto the beach at a neat spot where there were several big rocks. We had a good time climbing the rocks and just watching the waves come into the channel formed by the rocks.

We checked into the camping grounds but this time we were'nt staying in our tent. We're staying in a Yurt tonight! Its pretty nice.

Dinner tonight was the best Mexican food I have had in years! Everything was great including the Margaritas that Dad, Wayne, and I had. I completly cleaned my plate.

Tomorrow we enter into California and see the Avenue of the Giants! Tonight we sleep well in the comforts of our Yurt.
Pictures!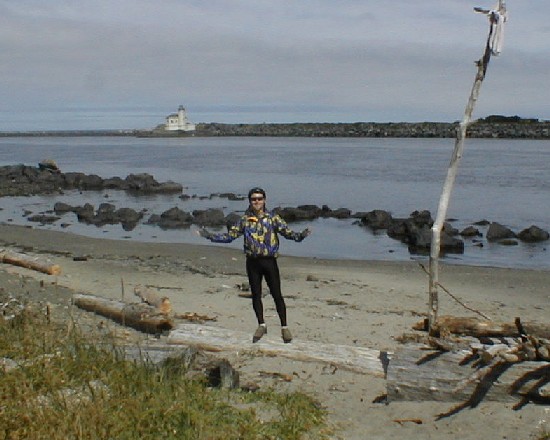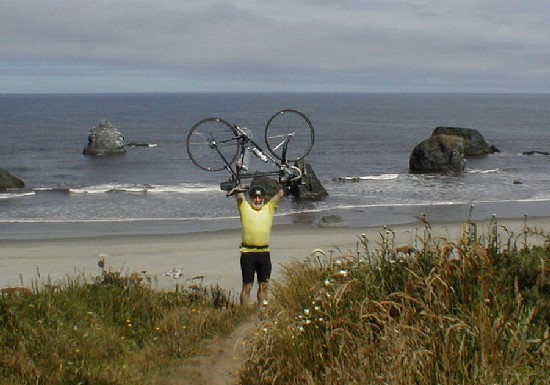 The neat beach Wayne and I stopped at

Wayne on the rock we climbed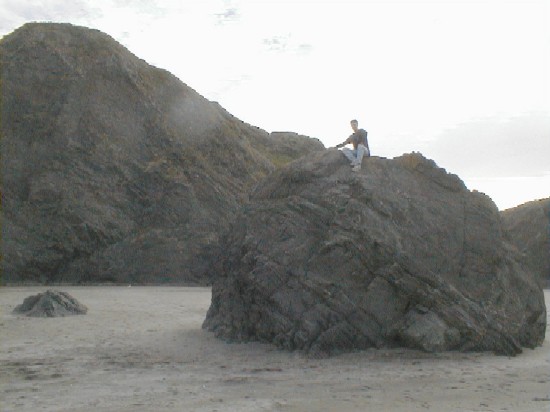 Paul on the rock we climbed