Day 7 (Friday, July 14)
---
Written By: Adam
Friday was dad's birthday!
It was a great day. We started the day a little earlier today, we got up around 7 am. We cleaned up the Yurt, went down to the beach for a while, and then hit the road...
(Note: A Yurt is a tent-like thing that folks sleep in out here. It looks like a big yellow marshmellow with windows on the sides and a dome on the top)
The plan was to drive 140 miles south to the beginning of the Avenue of the Giants and then hop onto our bikes and cycle through the redwood forest. Paul and Wayne would meet up with us 80 miles later, where we would all celebrate the completion of our most challenging day. What a glorious finish!!
Here is what really happened after we left our yellow marshmellow...
We headed into town for a hearty breakfast at Denny's. While sipping hot java and shoveling a meat skillet into my belly- I suggested that we "update" the plan. The new plan included allowing more time to reach the redwoods, some time to rest my legs, and spending more time with Wayne and Paul. As it turned out, it was the right thing to do.
We didn't stop again (except for a quick mocha in Eureka) until we reached the redwoods. Man these trees are enormous! (see photos below!) We got out of the car and hiked a little, we made sure to hit the trail where the last bigfoot sighting had occurred. We saved the last picture on Paul's camera for our bigfoot sighting, however despite our efforts he was a no show. So, we all plopped back into the car and headed off to the Ranch to crash for the night.
When we arrived in Westport, we knew we were trouble. We hadn't eaten since breakfast and we were starving. The only restaurant in Westport, "Lodge/Eat" was closed because the owner's mother was ill. Not knowing if we would find a place to eat, we headed south. We eventually did find a place in Fort Brag, CA and ate like kings (except Wayne- who always manages to order something that doesn't settle well).
After dinner we drove back through Westport, it took less than 10 seconds, and headed up a dirt path towards the Howard Creek Ranch. After checking in, Dad returned to the car with a smile because he knew that our "room" was going to be slightly different than any room we ever stayed at before. We followed behind the owner's car up another dirt road to a mysterious gate. The owner (we called him Hatchet Harry), opened the gate for us and directed us to drive through and park. Dad was right, we hadn't ever stayed at a place like this. It was mostly an open deck area with a sink, stove, and cooking area under a small roof. On the left part of the deck there was a small glass house and just past that a hot tub (also very small, as Paul and I quickly figured out.) So, we slept in the small glass hut- Wayne and Dad upstairs in the mirror room and Paul and I downstairs on the foldout couch. The place had an excellent view of the ocean. It was a really neat place to stay for the night.
This was the last night of this year's adventure. It was a trip filled with sweat, instant breakfast, espresso, sweet down hills, tough climbs, big trees, hacky sacking, awsome ocean rocks, good food, and a Yurt. We all had a great time and are looking forward to our next adventure together.
Pictures!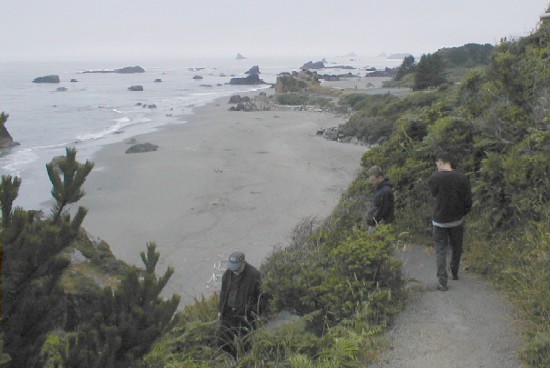 That morning, heading down to the beach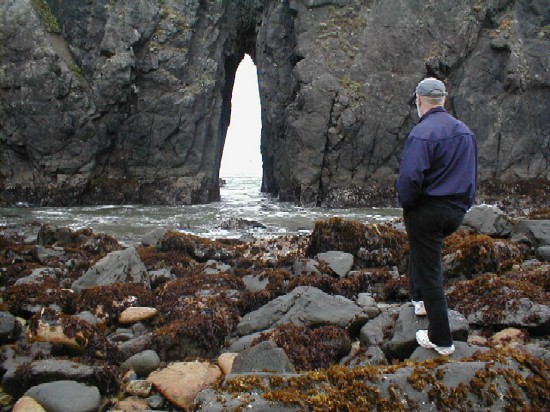 A neat rock on the beach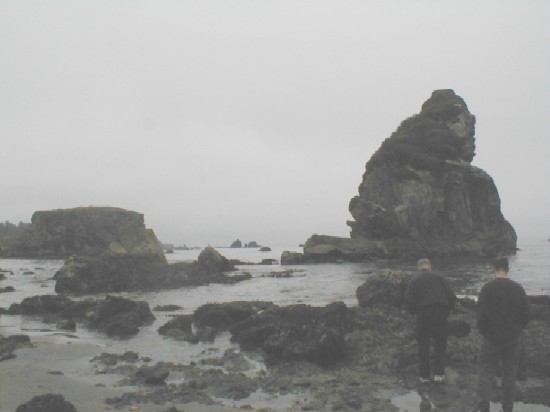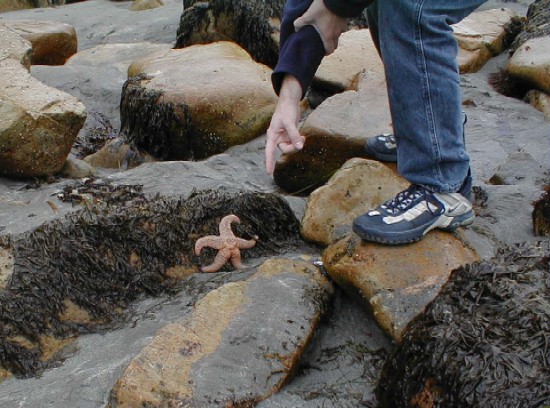 A star fish!

We arrive at Avenue of the Giants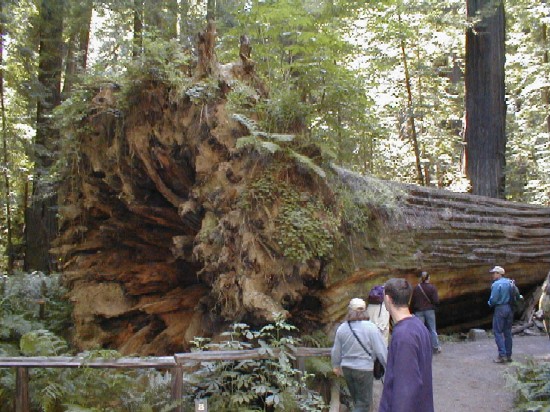 Wow! Thats a big tree!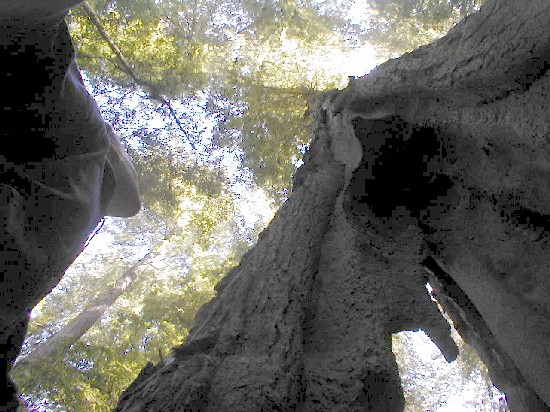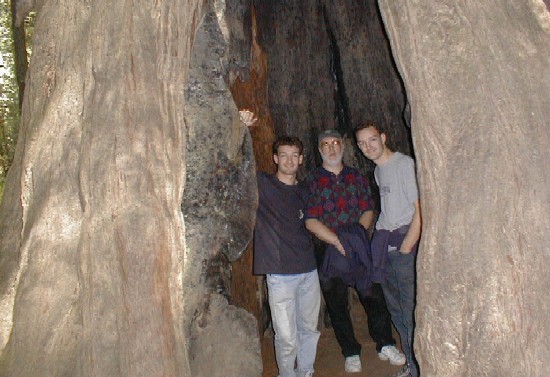 There was a hole at the base of this tree (how is it standing?)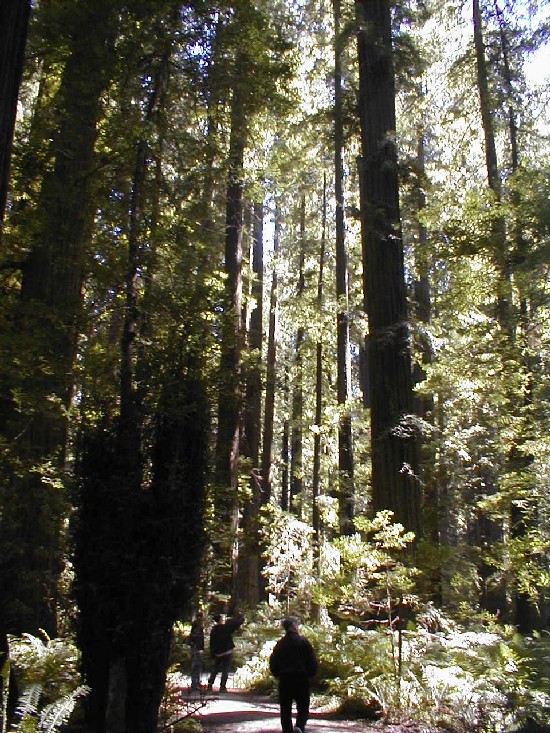 The Ranch we stayed at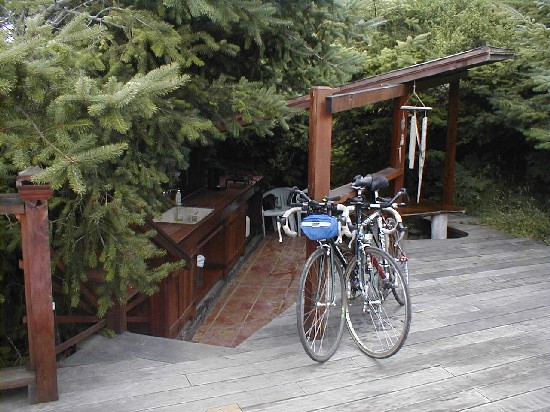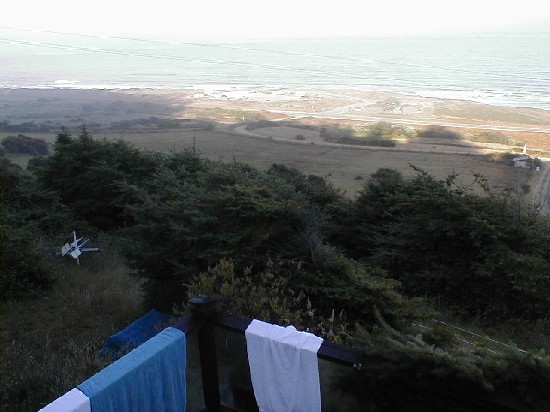 The view from the deck of the ocean

Dad enjoying the hottub with a mug of tea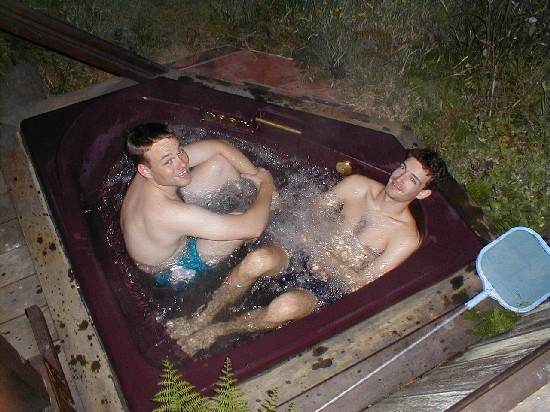 Adam and Paul in the tub